CBME Zhejiang Huzhou Export Online Fair (RCEP• Baby & Children's Products) helped to develop overseas business opportunities and was a great success!
Release date:2022-06-01
"The market is here, even if the pandemic can't stop it!"
Affected by the pandemic, many overseas buyers are temporarily unable to come to China to attend offline exhibitions. However, this does not stop us from providing quality services to you as always and to help enterprises to expand the diverse international market.
To further support Huzhou foreign trade enterprises to expand the international market, the 2022 Zhejiang Huzhou Export Online Fair (RCEP• Baby & Children's Products) hosted by Informa Markets and Huzhou Municipal Bureau of Commerce, organized by Huzhou Yard Convention & Exhibition Co., Ltd. was successfully concluded on the afternoon of May 20, 2022 and received high praise!
Fu Yuchen, Deputy Director of Huzhou Municipal Bureau of Commerce, accompanied by colleagues from Huzhou exhibition industry, visited and learned about the business negotiations in this online trade fair and gave on-site guidance. At the same time, Huzhou exhibition work symposium was held on the present complex situation at home and abroad.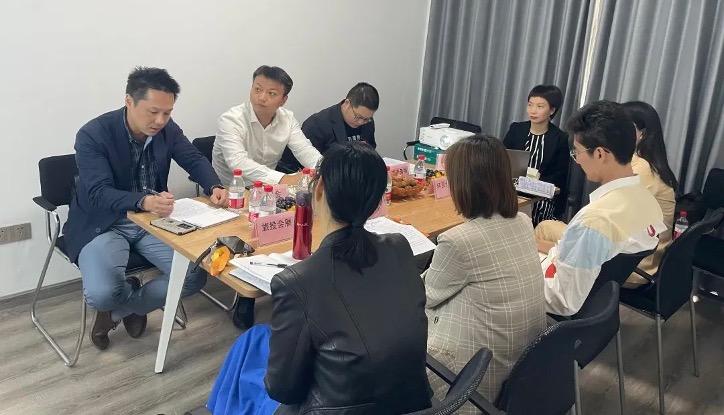 Accurate matching to improve Business Matchmaking efficiency!
CBME and Huzhou Yard Convention & Exhibition Co., Ltd. made meticulous preparation before the fair, attracting 43 enterprises from 8 RCEP member countries such as Australia, Japan, New Zealand, Malaysia, Vietnam etc. and 41 high-quality babies and children's product enterprises in Huzhou. The products cover baby clothing, children's clothing, baby furniture/toys/daily consumer goods and other babies and children's product segmented industries. During the 5-day online negotiation, 181 times of Business Matchmaking were completed.
To help improve the Business Matchmaking efficiency, the host matched sellers with buyers in advance according to their product categories and needs in the early stage of the fair, which greatly reduced the mismatching between buyers and sellers in terms of corresponding products.
This online partnering involves four product categories:
Children's clothing, Toys, Paper Products, and Household Products
In a separate chat room, exhibitors will show their product details, company background and detailed order requirements to overseas buyers by video, and exchange contact information for further communication after the meeting.
One-on-one Video Meeting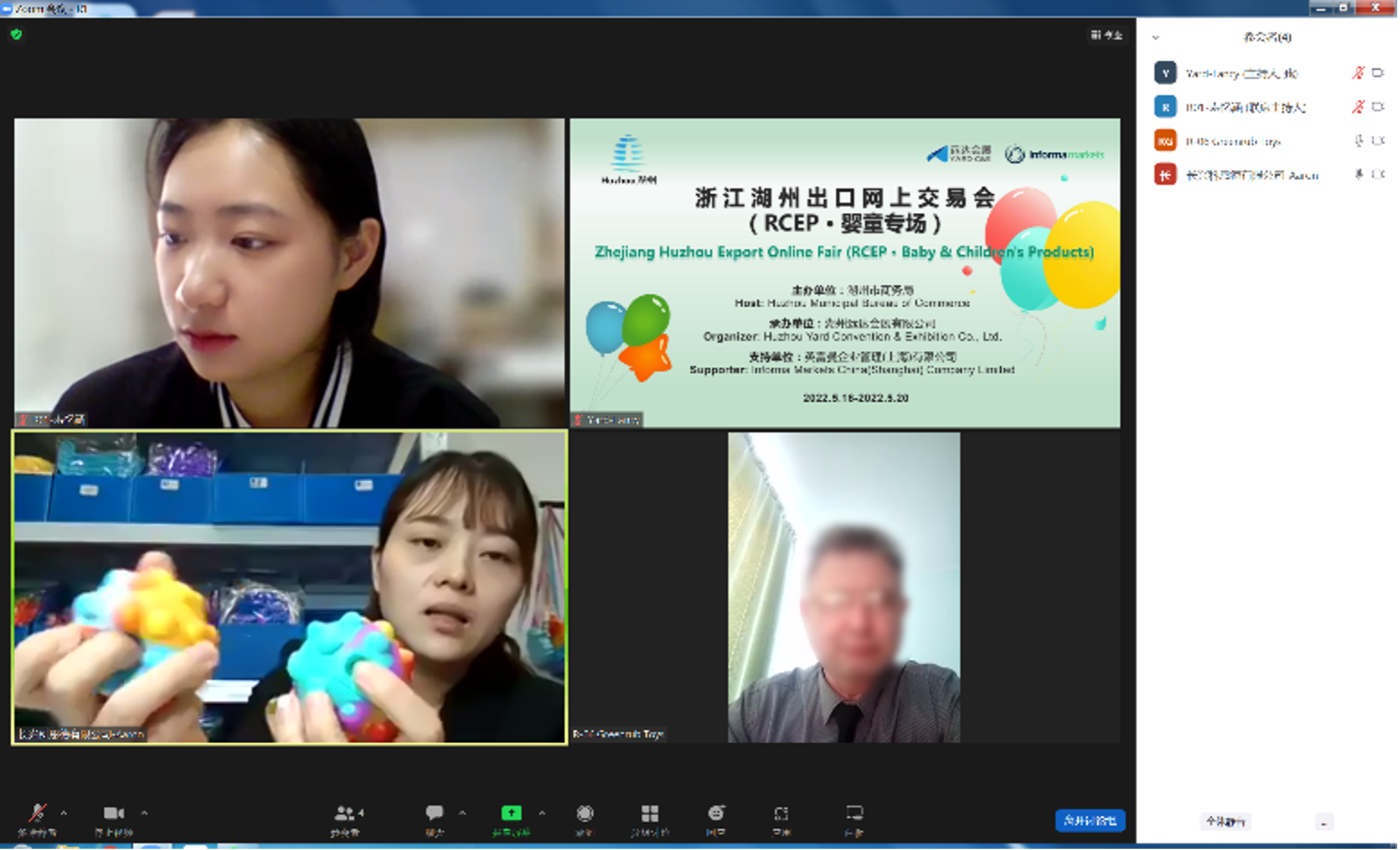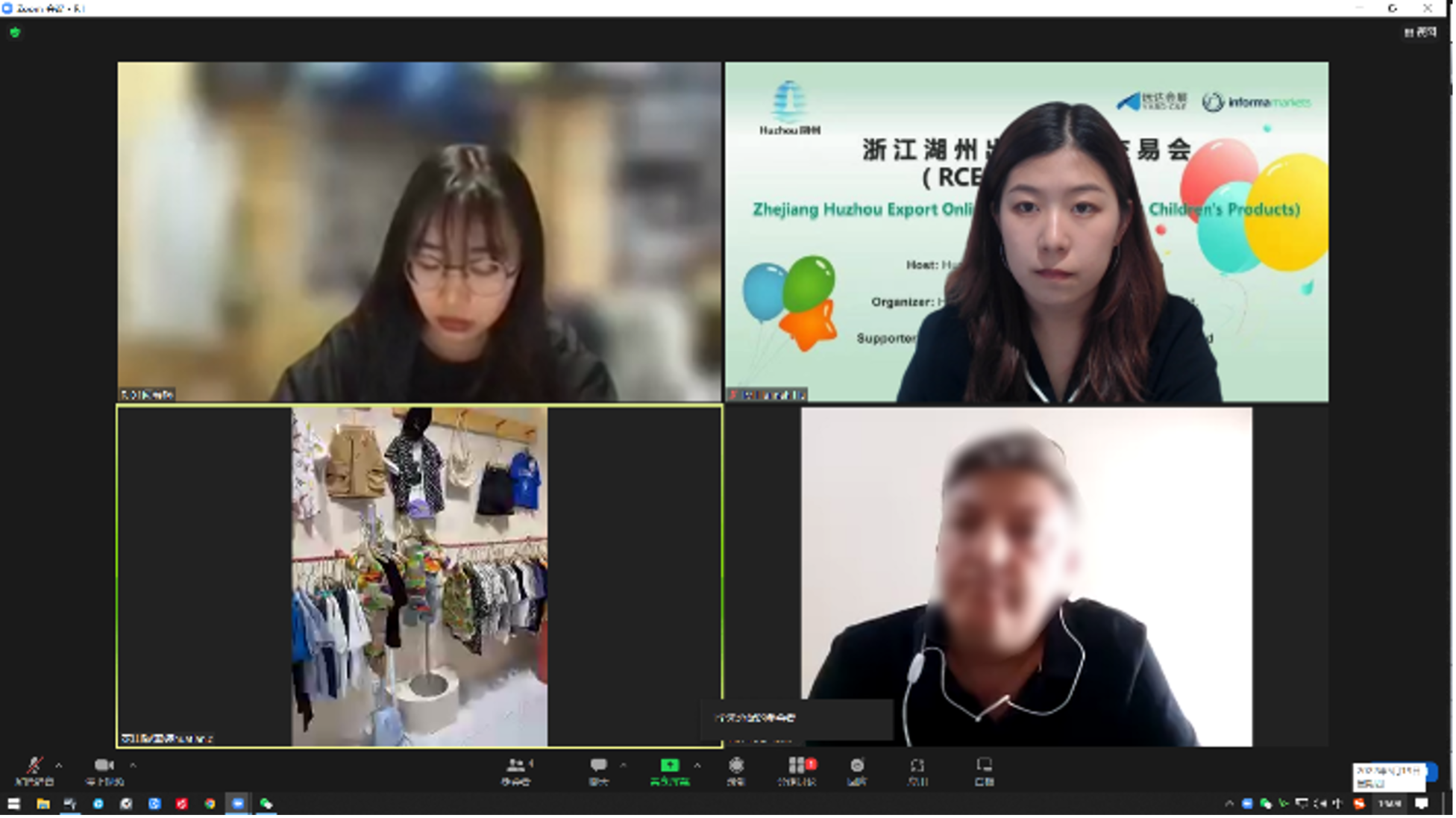 During the 2-day online matchmaking, 5 customers from Japan, Australia, Vietnam, Malaysia etc. matched with us, and two of them replied to our emails in time. Thanks to the organizing committee, the result is better than we expected, and we will actively participate in similar online activities in the future!
-- Huzhou International Trade Co., Ltd.

We are very lucky to participate in this online fair. In just a few days, we have gained nearly ten interested customers, which is very helpful for our business development. Thank you very much to all the people who hosted this fair. Thank you for your efforts. Thank you!
Excellent supplier and good quality product! The organizer and staff are also very experienced, and the arrangements are very good and reasonable.
---Kishi's Co., Ltd.(Sourcing Manager)Japan
The expo was great and professional. I met a number of well-known Chinese suppliers whose products fit our market well, and we also got in touch after the meeting, Hope we can cooperate in the future!
---Toys"R"Us(Director) Japan
Thank you for inviting me to participate in such a well-known exhibition, we have always wanted to open up the Chinese market and cooperate with Chinese suppliers. This exhibition provides an excellent platform for our company.
--Aussie Toy(Supply Director)Australia
The above feedback comes from some domestic and overseas customers
...
The Final Last
2022, the pandemic did not tear us apart. The overseas market has great potential, especially in the maternal and infant industry, and the pent-up demand due to the pandemic is recovering. Participating in online exhibitions and online business negotiations is an indispensable and efficient way for foreign trade enterprises to develop new customers and secure new orders.
More activities on the way. Don't miss!
CBME will continue to bring more online and offline activities, including online and offline product category business matchmaking meetings, regional retail summits, cross-border import/export platform activities, import high-quality baby & maternal product channel exchanges, other related activities and display of cross-border theme exhibition areas to help more high-quality international brands enter China, and facilitate the cross-border development of domestic brands and products.
Connect
Hannah Hu
Overseas Marketing
If you have any business matchmaking needs, please feel free to contact.
Back To Menu