The 22nd Children Baby Maternity Expo (CBME 2023) declared its grand opening in Shanghai
Release date:2023-07-20
The 22nd Children Baby Maternity Expo (hereinafter referred to as CBME 2023), organized by Informa Markets, grandly opened at the National Exhibition and Convention Center (Shanghai) from June 28th to 30th, 2023. The show covered an area of 300,000 square meters and attracted 2,880 exhibitors from over 30 countries and regions, showcasing a total of over 4,500 Children-Baby-Maternity brands. Meanwhile, 97,822 domestic and overseas buyers from nearly 40 channels gathered. The purpose of the show is to provide a significant platform for professionals in the Children-Baby-Maternity industry to exchange ideas, explore new products, popular items, and emerging trends, and to drive the industry towards a new stage of development.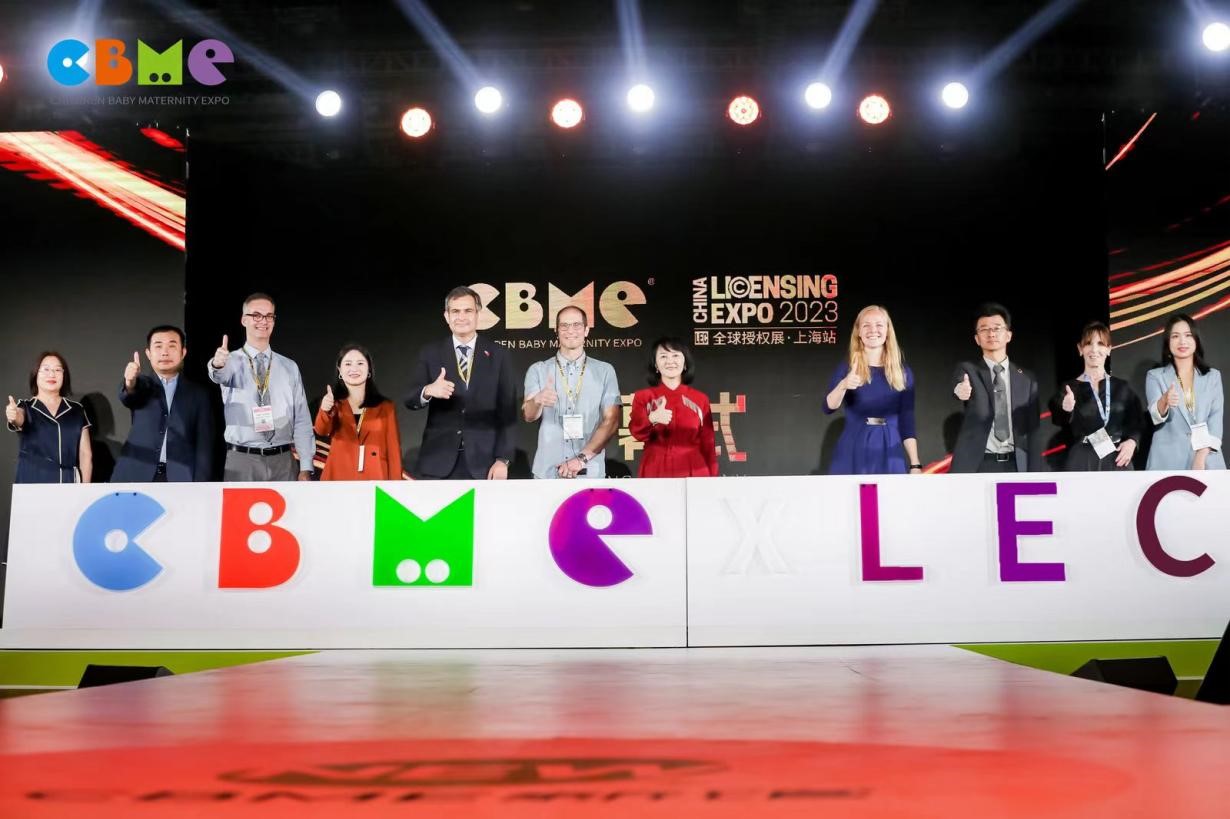 Grand Opening of Children Baby Maternity Expo 2023
With the gradual recovery of global trade, the Children-Baby-Maternity industry has welcomed more new business opportunities in domestic and international trade, and the market size has shown a continuous growth trend. CBME 2023 brought together more than 4,500 high-quality Children-Baby-Maternity brands from around the world, covering a full range of products including Children-Baby-Maternity supplies, infant and child food, nutritional and snack foods, toys, education and stationery, children's and baby clothing and accessories, strollers, car seats and furniture, and supply chain. Brands such as Pigeon, Babycare, Bebebus, Elittle, thyseed, Yili QQ Star, More More, Yiying, Chiaus, Deer Blue, Botzees, Mideer, Welldon, Dexter, Biogaia, Panasonic, Alilo, Akita Full, Chicco, Philips Avent, Dr. Brown's, Hape, Ty, and many others from both domestic and overseas markets have made appearances, jointly creating the annual event of the Children-Baby-Maternity industry.
CBME 2023 site
Overseas brands made a strong comeback, international pavilions gathered together
Overseas brands are repositioning themselves in the Chinese market, bringing over 750 overseas Children-Baby-Maternity brands from more than 30 countries and regions worldwide. These brands offered a wide range of high-quality products, including premium children's clothing, oral care, sleep management, nurturing and feeding, nutrition and health, educational toys, and other categories with significant growth. International pavilions from North America, Norway, Japan, the United Kingdom, Singapore, France, South Korea, Australia, New Zealand, and the pavilion from Hong Kong, China, presented a diverse product experience to the visitors, promoting international exchanges in the industry.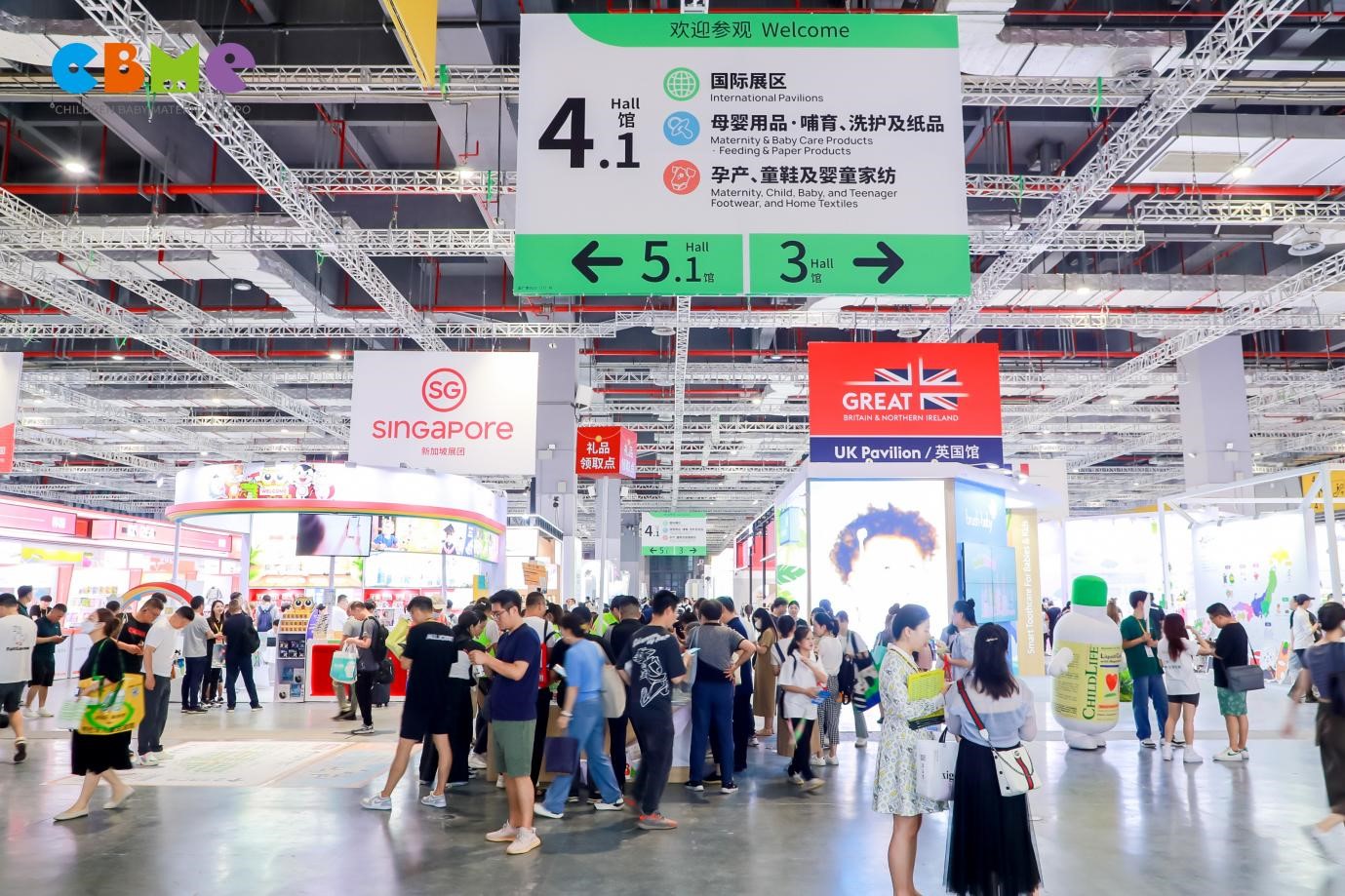 International pavilions at CBME 2023
Product line extended, heavily expanding the middle-aged children and family consumer market
The show brought together more than 4,500 well-known and emerging brands, showcasing a full range of Children-Baby-Maternity products in 10 exhibition halls. This year, the exhibit categories extended to middle-aged children's categories, with special outdoor sports, study desks, stationery, and education exhibition zones, showcasing segmented categories of children's clothing and shoes to explore new industry growth.
In the outdoor sports exhibition area, there were outdoor riding and sports products such as balance bikes, bicycles, electric bikes, tricycles, campers, scooters, twist cars, go-karts, and tents. Brands such as Kinderkraft, Bike8, Radio Flyer, Montresor, Lebei, Ledea, Montasen, KEENZ, Nabiis, etc. made a wonderful appearance. The study table, stationery, and education exhibition zone showcased products such as study tables and chairs, stationery, art materials, children's books, learning machines, reading pens, backpacks, desk lamps, etc. New exhibitors such as JIFOU, little bean, Seewo, Tianwen, Jermey, STA, My First Book, Qiyi Magic Cube, Kai Shu, etc., showcased a wide range of carefully designed maternity and parenting products. Meanwhile, Bduck, Boys and Girls, q21, Deesha, Peppa Pig, Nianyi, and other children's shoe and clothing brands also made appearances at the event.
To expand consumer demand, CBME 2023 set up a family consumption exhibition zone, focusing on household products. Many exhibitors brought new mother and baby and family-related brands to the show, helping visitors grasp emerging consumer trends. In addition, the show also launched the "Family Daily Necessities Display Zone", showcasing segmented products such as oral care, nasal care, and household paper.
Many well-known oral care brands such as Jordan, BabySmile, Grin, MDB, Yucca, SEAGO, and Tuto Mama showcased toothpaste, toothbrushes, dental floss, mouthwash, and children's oral cleaning sprays to meet the oral care needs of a wider range of mother and baby households.
In addition, brands of household paper products such as wet wipes, cotton soft wipes, tissues, and disposable sanitary products: Youquan, Guoguang, Deeyeo, Corou, ITO, Ankexin, Hulijia, Suraran, etc. attracted a lot of attention onsite.
Check out the new Children-Baby-Maternity products in 2023 at Hall 7.1 'New' Hall.
CBME 2023 created a brand new 7.1 'New' Concept Hall, integrating multiple dimensions such as discovering new products, observing new trends, learning new promotion ways, and making new friends. It connected the links of product selection, quick matching, trend activities, etc., allowing exhibitors and visitors to explore the new trends in the baby and child industry! There were also a variety of exciting events such as runway, launch events, influencer live streams, innovation research and study society, forums, matchmaking events, outdoor parent-child areas, premium product displays, and co-creation brainstorming sessions.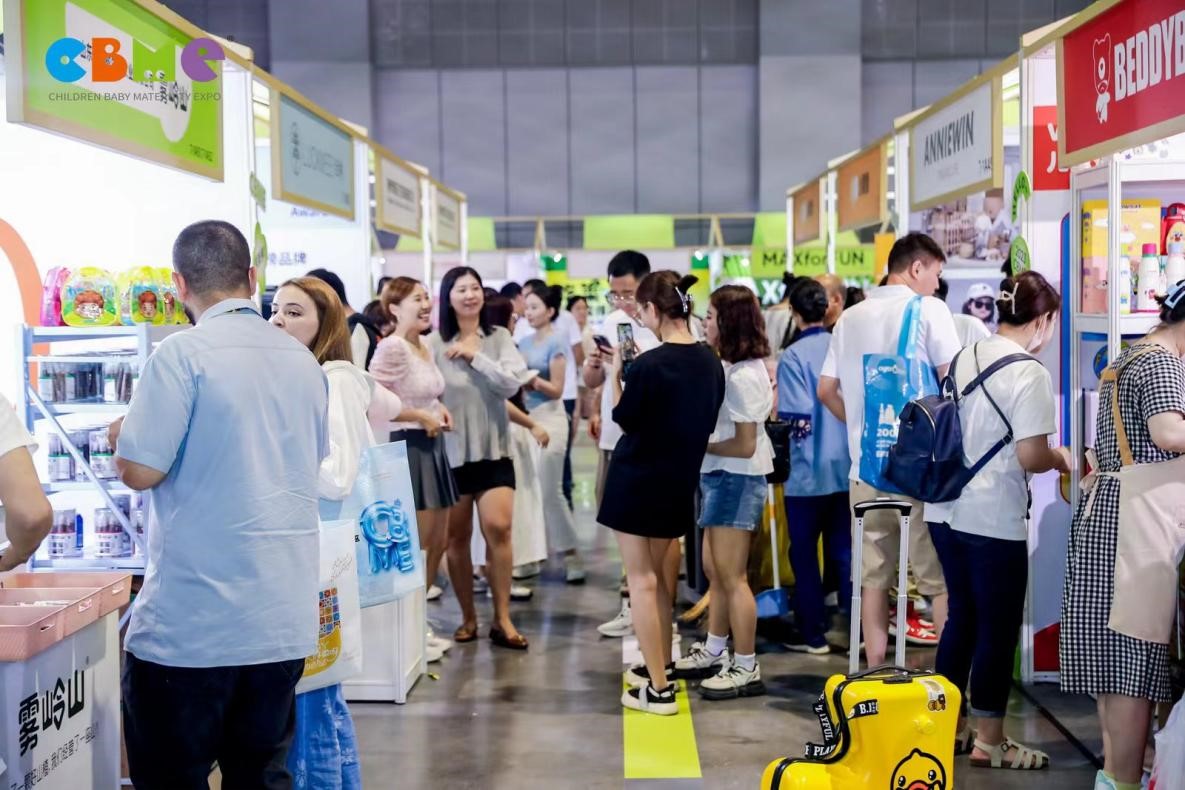 CBME 2023 Hall 7.1 'New' Hall
Go to the Super New Product Collection Street and explore the latest products of 2023. Many well-known brands settled in this zone, such as bodorme, yunbaby, bibi, Gaoqing Era, DJECO, Camping Box, Nianqin, Norwegian Innovation Agency, Zhuoda, bebeeco, BRAHA, DR.TALBOTS, gogoglow, Jingyu Technology, etc., showcasing numerous new and popular products.
"Let's Go Wild! Outdoor Parent-Child Zone", explore a new world for outdoor parent-child families. CBME, in collaboration with Camping Box and ARCFOX, launched an outdoor parent-child zone. Combining current product trends, it showcased over a hundred trendy new products for outdoor riding, amusement, and travel in camping and beach scenes, allowing visitors to experience the product functions up close and create a brand new experience!
Join CBME Runway 'Children Fashion Show' and start a summer trend in the mother and baby industry! CBME well-known exhibitors: The Norwegian Innovation, Pigeon, Zhili Children's Clothing, Dearher, and Thermos joined forces to create a dazzling stage. Many invited experts in the field of maternity and infant products attended the event as VIP guests, taking photos, interacting, and checking the trend of the maternity and infant industry!
CBME, in collaboration with Sina Parenting and Weibo Maternity, jointly launched the online topic collection campaign 'C2N Co-creation Brainstorming', attracting active participation from numerous parents and influencers in the field of maternity and infant care. The campaign aimed to envision future parenting products and has accumulated over 1 billion views. Many parenting ideas showcased on-site in Hall 7.1.
Cooperating with Douyin E-commerce, CBME launched the "Douin Baby Plan-CBME Global Maternal and Baby Festival", where visitors could enjoy fun official livestreams, interactive installations, and check-in at the 7-1C02 Douyin E-commerce Official Exhibition Area, experiencing a fun-filled online and offline maternity and baby event. From the 28th to the 30th, in Hall 7.1, hosts Wang Fang, Zhou Zhou, Tsinghua mom Ma Lanhua, mom with child Lu Lu, Rui Xue, and friend-making parent-child life and other top Douyin influencers formed the 'Influencer Guided Tour' to select new brands, discover affordable and reliable parent-child products, and led everyone on a virtual exhibition tour.
100+ wonderful conferences and events to help the industry grasp new development trends
From June 26th to 30th, nearly a hundred events were held at the show, featuring hundreds of industry experts and a hundred major themes, creating an endless array of excitement! From June 26th to 29th, the " Spanning Boundary • 2023 CBME Industry Summit " brought together 13 major thematic summits! The summit focused on hot topics such as health, retail, marketing, baby care, outdoor parenting, children's fashion trends, children's clothing accessories, packaging materials, group buying marketing conference, maternity and childbirth, cross-border import and export, etc., deeply analyzing the current industry situation and new trends.
In addition, the show also gathered numerous outstanding brands and distributors from home and abroad, creating exciting events such as CBME Forum, CBME Launch Event, CBME Runway, CBME VISION, Live Streaming with Industry Leaders, and Matchmaking Meetings.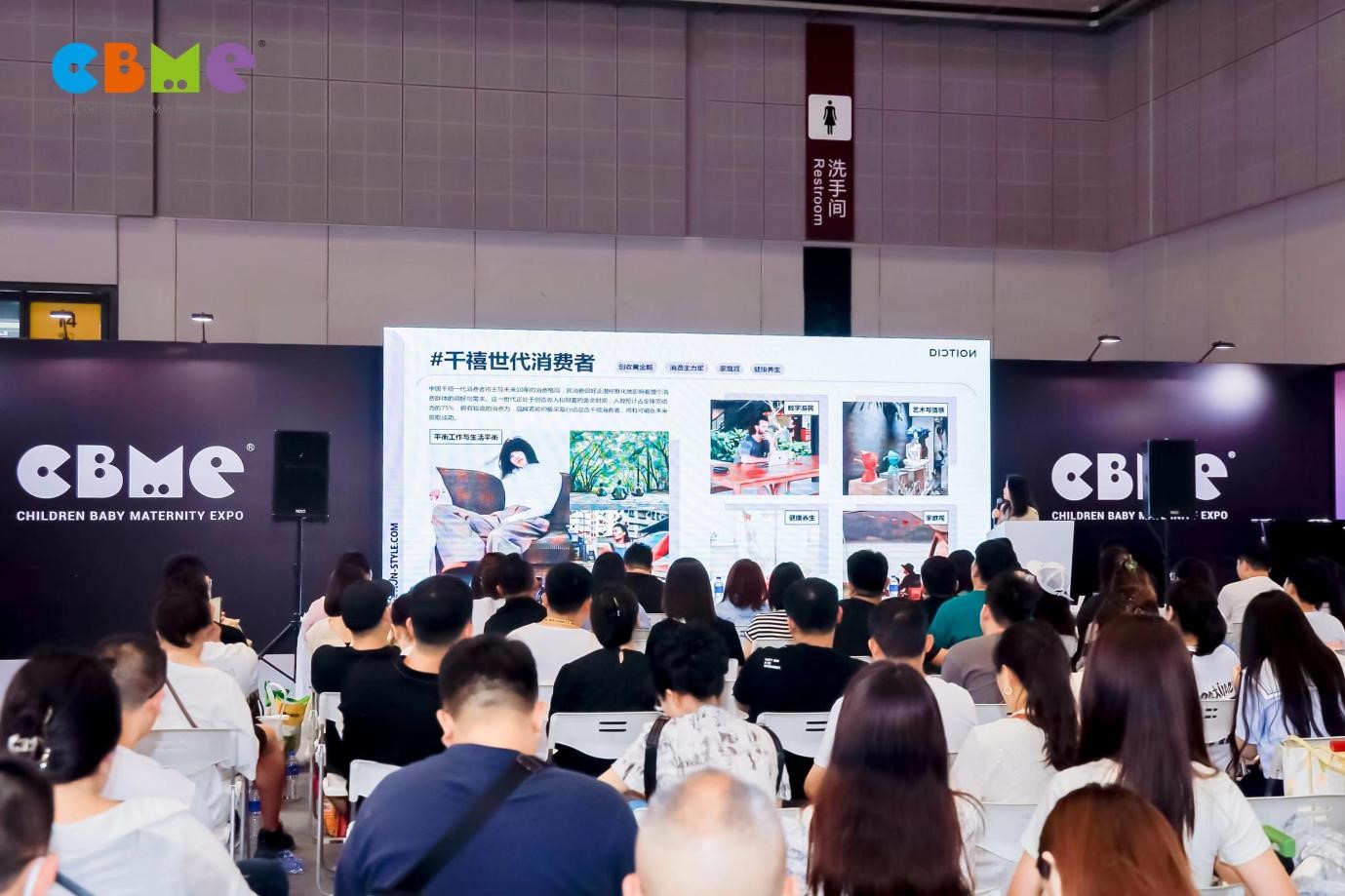 2023 CBME Theme Summit Scene
Drive the development of high-quality products, expand the supply chain, and help enhance the product competitiveness of enterprises.
In the CBME VISION area of Hall 7.1, products that have won the Excellent Product Award are showcased, selecting products with good appearance, creativity, and potential for the industry, combining fashion sense and intelligent aura, and exploring new consumption trends in nine major industries.
By extending the segmentation of product categories, we can help optimize and upgrade the industry supply chain. The '2023 CBME Supply Chain & Private Brand Exhibition' is based on the supply chain needs of four core industries: food, daily chemicals, paper products, and maternal and child products. It covers two major categories of maternal and child products: maternal and child products and zero auxiliary food, as well as household scene high-frequency consumer products such as paper products, daily care chemicals, dairy products, snacks, nutritional products, and natural products. It brings together the entire industry supply chain enterprises including packaging materials, OEM/ODM/OBM, raw materials, production and processing equipment and supporting services, design and services, etc., to create a one-stop maternal and child industry supply chain trade platform.
Gather diversified channels of buyers, online and offline, to facilitate precise connection across the whole region
2023 CBME will attract over 100,000 buyers from various channels including agents, boutique maternal and infant stores, online channel merchants, postpartum care centers, and children's department stores, among others, to gather together. At the same time, the on-site 'CBME Omni-channel Product Matching Meeting' will facilitate precise and efficient matching between buyers and sellers. It adopts a 1v1 mode to assist top retail chains, boutique maternal and infant store stores, overseas buyers, high-quality agents, influencers, group leaders, MCNs, platforms, and other buyers in efficiently connecting with brand merchants, seizing golden business opportunities during the exhibition period.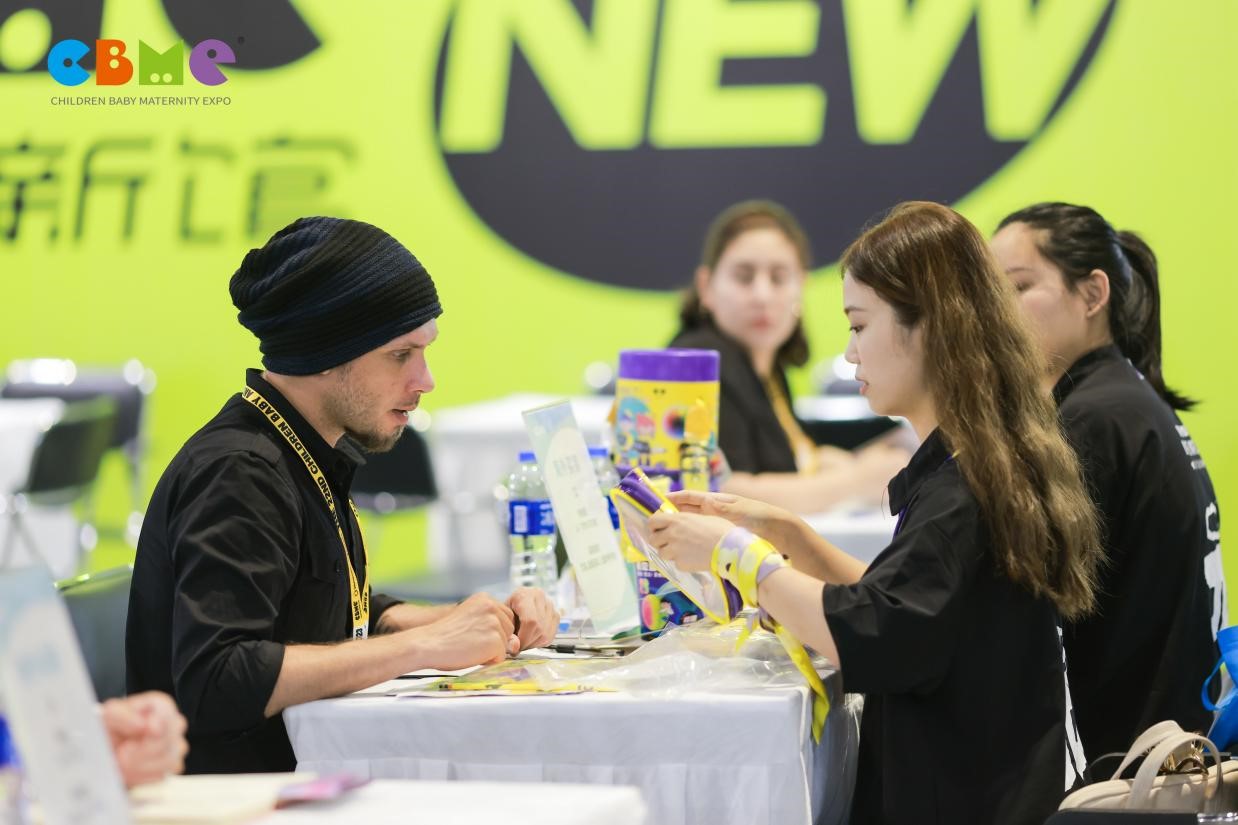 2023 On-site CBME Omni-channel Product Selection Meeting
In addition, CBME has also launched a new "Cloud Procurement Treasure" mini-program online venue. Enterprises and buyers can use the platform to search for exhibitors, find products, arrange meetings with customers before and during the exhibition, and inquire about exciting on-site activities, making exhibition visits and business connections easier and more efficient.
In 2023, CBME will show you the new opportunities in the maternity, baby, and children's industry, creating more industry growth for you and exploring unlimited new possibilities for the future.
The excitement continues. The first "Internationa the GBA Children Baby and Maternity Products Expo and Shenzhen International CBME and Cross-border Expo" will be held at the Shenzhen Convention and Exhibition Center (Futian) from December 7th to 9th, 2023. The exhibition will focus on the Greater Bay Area, radiate the Pearl River Delta, connect with Southeast Asia, and explore unlimited business opportunities in the Greater Bay Area's Children-Baby-Maternity market.
The 23rd CBME will still be held in Shanghai from July 17th to 19th, 2024!
For more information about the exhibition, please visit www.cbmexpo.com or follow the CBME WeChat official account.
Contact Us:
Business Cooperation: Michelle Lan
E-mail: Michelle.lan@informa.com
Media Cooperation: Alison Du
E-mail: Alison.du@informa.com
Back To Menu