2022 CBME Launching with 12 Highlights
Release date:2022-05-11
The 22nd Shanghai International Children Baby Maternity Expo (2022 CBME) will focus on the following five directions to create a world-renowned annual grand event for Children Baby Maternity product industry:
New Pan-Maternal and Infant Ecological Category Extension.

Discussion on rich leading topics of the industry.

Help enterprises improve their product strength.

Help retail channels to upgrade their intelligence, reduce costs and increase efficiency.

Business matching meetings.

Many well-known brands and cutting-edge brands have decided to participate in the exhibition, and are expected to share the exhibition with more than 100,000* professional visitors. 13 national and regional exhibition groups present diversified products and experiences for visitors and exhibitors, and provide ideas and references for the future growth of the industry.

In 2022, CBME will set up a special category (outdoor riding and sports; study tables, stationery, and education) of children's products for middle-aged and older children with independent exhibition areas outside the original exhibition areas (food, nutrition, snacks, toys, study desks and car seats).
Outdoor Riding and Sports:
Including: balance bike, bicycle, electric car, tricycle, camp car, scooter, swing bike, karting car...
Study Tables, Stationery, and Education:
Including: study desks and chairs, stationery, painting materials, children's books and picture books, point-read pens…
Children's Clothing and Shoes:
Including: children's clothing, shoes, and accessories...

The consumption of child, baby and maternity products is gradually extending to household consumption. In 2022, CBME will set up exhibition areas around the two directions of family nutrition and health and household daily chemical products, bringing together more new brands related to mother and baby and new family products.
Family Nutrition and Health Exhibition Area:
Including: Children's milk, adult milk, adult nutrition products, other new and fresh products...
Household Chemicals Exhibition Area:
1. Oral Care:
Including: toothpaste, toothbrush, floss, mouthwash, breath freshness and related products
2. Female & Household Cleaning:
Women's products: skin care and cleansing products, personal care, health restoration, family planning products...
Household cleaning: kitchen and bathroom cleaning products...
3. Household paper:
Including: wet tissue, soft cotton wipes, paper wipes, disposable sanitary products…
In addition, CBME will open a highlight exhibition zone of "Household Consumption Experience Workshop" to build a new experience scene from the perspective of family consumption and show the new growth direction of mother and baby product industry for the future.

Offline Business Matching of Omni-channel Buyers:
It is expected that more than 100,000* Omni-channel buyers from comprehensive mother and child product retail, boutique mother and child product stores, agents / dealers of various categories and nearly 40 channels will gather in this exhibition.
All-year-round Matching:
The newly upgraded online matching platform "Yuncaibao"will help enterprises and buyers always achieve efficient matching in all channels through exhibitors and product retrieval, business card exchange, theme live streaming and other ways.
Over 20 Offline Theme Matching Conferences:
More than 20 multi-theme matching conferences will be held at the exhibition site to help brands, channels and ecological partners achieve accurate matching.

In 2022, as a forward-looking platform in the industry, Children Baby Maternity Summit (CBMS) will be held for four days from the day before the 2022 CBME. Discussion on industry trend topics that bring 1 + 100 to the industry.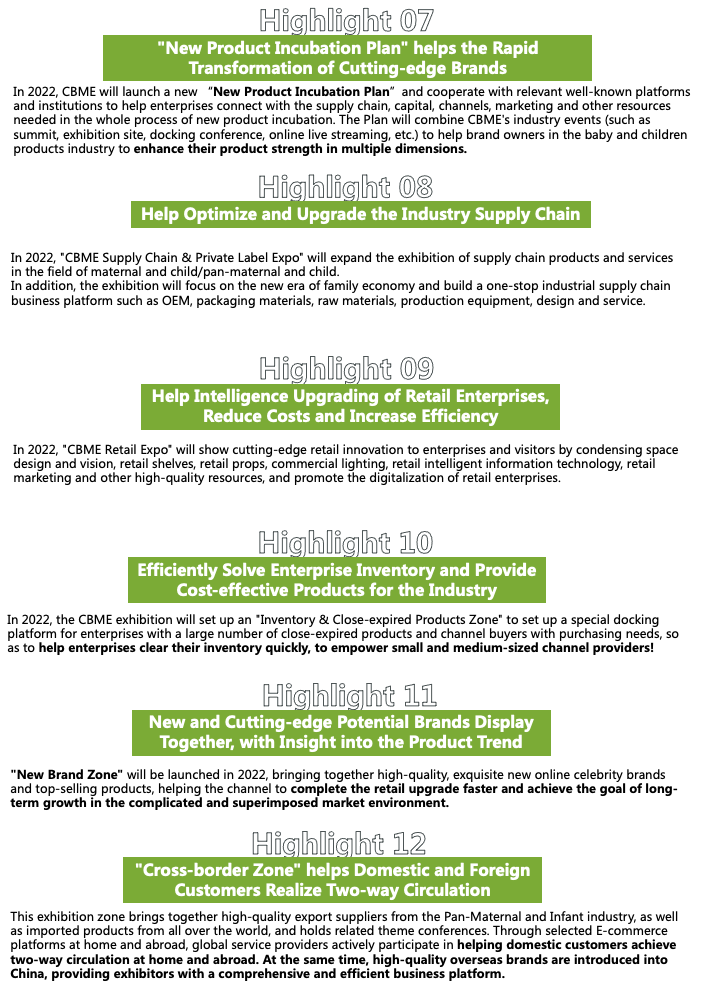 Back To Menu